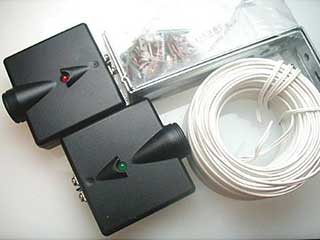 Many accidents have been reported in some states in the US related to garage doors. The reason is that these garage doors could not sense the presence of a human being or an object obstructing its view. Today, garage doors are built with photoeye sensors to recognize an obstruction.
How Do They Work?
The mechanisms in sensors are not at all complicated. Basically, they can be found on the opposite sides of the door and are installed facing each other. If they sense an interruption once the doors are closing, they automatically stop or reverse.
However, there are also problems concerning photoeye sensors. If you do not pay attention, they could get damaged or worse, hurt someone. With the skills and knowledge of our professional servicemen, these issues will be solved right away. Still, it is important to be aware of the common problems so you'd know when to call our experts.
Blockage – when dust and dirt block the sensors, they won't be able to communicate well, which makes them malfunction.
Not facing each other – perhaps the sensors are accidentally moved from the original position, therefore, they not functioning properly.
Lights not blinking – note that they have lights that indicate if they are working or not. Make sure that they are working to avoid accidents.
Photoeye sensors are important components in a garage door. Without them, accidents will continue to happen. If they are not well-maintained, they can cause big problems that can be costly. For this reason, it is wise to get them checked from time to time. It is also best if you are aware of basic repair and maintenance solutions, since fixing the issues right away means increasing the safety and security of your garage door.