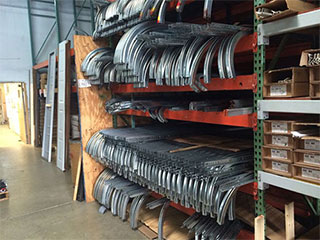 One of the most common problems, and often times the real headache, we encounter with our garage doors is a snapped cable or a cable getting off track. It could really be a headache because it could potentially cause the doors to tip on one side or fall off entirely causing damage to the car or the things inside the garage.
This Can Be Prevented Though
You have to understand that sometimes the cables themselves are not really the problem. In fact, in most cases, a broken cable is just a result of a problem in a part that is often times neglected; the garage door cable tracks.
The tracks are also subject to wear and tear. As a result, they also cause damage to the cables. Imagine if there is some sort of a tear in your cable track and the cable slides on that tear back and forth. What could possibly happen? Exactly! The cable can be compromised. It could easily snap or break in no time.
Professional Services For Cable Track Problems
Professional service technicians should check, clean and lubricate your garage door cable tracks at least twice in a year. This would ensure that the cables can slide through without any obstacles to cause blockage. Moreover, professional servicemen are trained to determine if the cables and the tracks are at their limits and needs repair or replacement. When they deem it necessary to repair or replace both parts, they will easily perform that for you.
Moreover, cable repair and maintenance is dangerous. A slight mistake can cause the entire door to fall off. It could potentially harm you as well as cause damage to your car and other things inside the garage. For this reason, we at Garage Door Repair Irvington are more than willing to extend a professional hand for you.
We deal with any garage door related problems that you may have. We repair and replace any door parts from cables to rollers. Our team of professional service crew is well trained and equipped to provide the top-notch services you and your garage doors deserve. So, what are you waiting for? Grab that phone now and give us a call!